Retail Displays
Custom Retail Display Manufacturer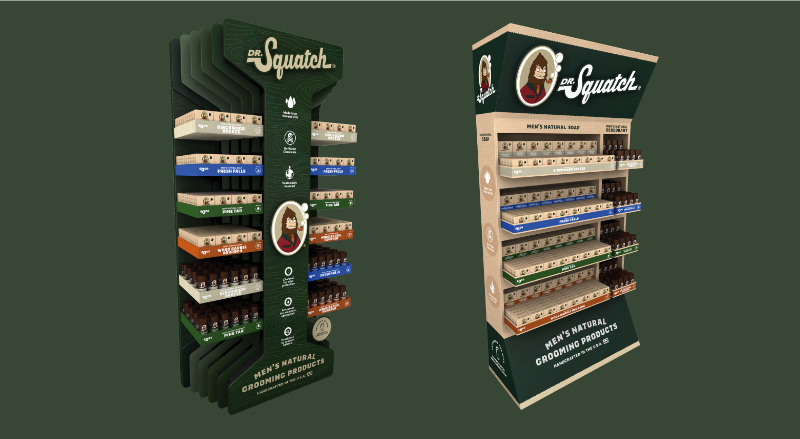 We understand what it takes to win at Retail
Retailers enjoy working with a retail display supplier like Berkley because we make an effort to understand the retailer's specific needs. We recognize that displays are vital to attracting and engaging your customers and, ultimately, increasing sales and profitability.
Many retailers — including Walmart and Costco, the biggest one of all — value their relationship with Berkley because we know what they need in the following areas:
Standards Compliance:
Each retailer has its own set of display standards and guidelines. Berkley understands and adheres to those specific requirements, ensuring that the retailer avoids any issues with compliance or regulatory authorities.
Space Optimization:
Store fixture manufacturers must understand the store layout and design to ensure that displays are optimized to fit the available space. Berkley maximizes your store's visual impact and improves customer flow, leading to more sales.
Enhanced Customer Experience:
By learning about the retailer's patrons, Berkley creates displays that are tailored to the store's target customers, enhancing their shopping experience and resulting in greater customer satisfaction and loyalty.
Cost Effectiveness:
Because we achieve a full understanding of our clients' retail requirements, we offer cost-effective solutions that meet their needs and budgets. This means that we help our clients minimize costs and improve profitability.
The Most Common Retail Displays We Provide
Floor Displays: Large displays stand on the floor to showcase a variety of products.
Counter Displays: Smaller displays sit on counters or tables and are typically used for small or impulse items.
End Cap Displays: These displays are placed at the ends of aisles to highlight products or promotions.
Power Wing and Sidekick Displays: These extend out from a wall or end cap to allow for additional product placement.
Full Pallet Displays: This type of display is built atop a 48" x 40" pallet and is generally used for bulk items or larger products.
Half Pallet Displays: This type of display is one-half the size of a full pallet display, or 24" x 40".
Quarter Pallet Displays: Quarter pallet displays can be 24" x 20", 24" x 24", 22" x 22" or 20" x 20" and are an economical choice for displaying products.
Micro Pallet Displays: These small displays are often found in the pet channel.
Skinny Towers: This type of display is used in drug and convenience stores.
PDQ (Pretty Darn Quick) Trays: These are small, attractive displays shipped with products and are placed near the cash register.
Club Store Pallets: Club store pallets are designed to meet specific Club store requirements and showcase products to attract Club customers.
Standees: Large, self-standing displays promote products, movies or events.
Pallet Trains: These are created by coupling pallets together to make a single retail display.
Dump Bins: Dump bins are large containers of products placed on the store floor to grab customers' attention.
Shippers/Hutch Displays: Shippers/hutch displays are shipped unassembled via bulk crates; each carton opens up to form a custom shelf-ready display.
From Bentonville, Arkansas: The Retail Capital
Berkley has a creative design team located in Northwest Arkansas, the birthplace and home to the corporate headquarters of Walmart, the largest retailer in the world. Our team boasts decades of combined retail and display knowledge. There is no better place for a retail display supplier and packaging company to be than in Bentonville.
Having an office in Bentonville provides Berkley with a strategic advantage in the highly competitive retail industry, especially as it relates to working with Walmart. Close proximity to Walmart's HQ allows the team to better serve the retailer's needs with:
Better Communication: A Bentonville location means more effective communication with Walmart's buying team, so we can quickly address any concerns or issues that arise. 
Improved Relationships: Establishing and maintaining strong relationships with Walmart and its suppliers lead to long-term partnerships and more business opportunities.
Increased Visibility: Our Bentonville office has resulted in more visibility and exposure within the retail industry, which helps us gain new opportunities with other retailers and suppliers.
Choose the Reliable Retail Display Supplier
Berkley is committed to helping our clients succeed in retail by customizing displays that not only meet their standards and regulatory requirements, but that are also specifically designed and strategically located to attract the attention of their shoppers. The world's largest retailer trusts Berkley to understand what it needs and to deliver the displays that help Walmart stores grow sales and increase profits. Shouldn't you trust us to help your company, too?
Want an innovative solution?
We think outside the box!