Club Store Pallets
Custom Pallet Retail Display Manufacturer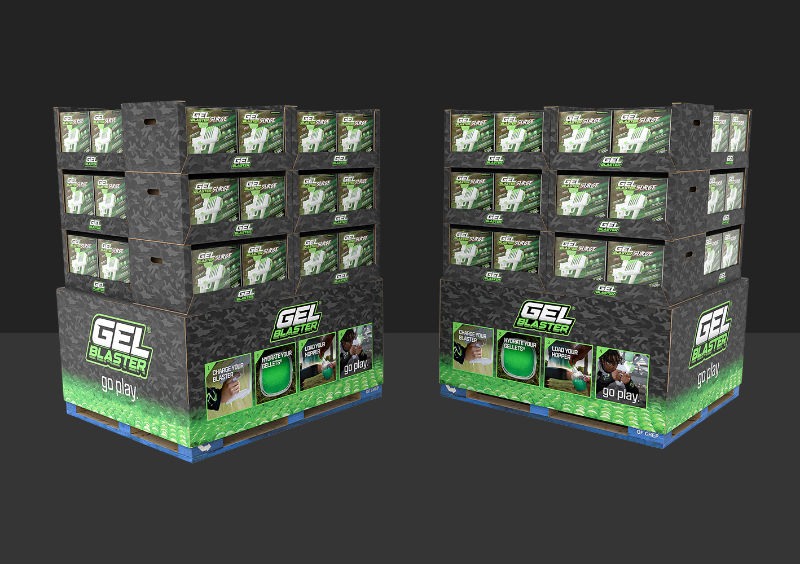 Preferred Supplier for Costco and Sam's Club
Berkley has a team dedicated to understanding the Club environment and creating pallet display solutions specifically for the Club channel. We thoroughly understand Costco's concern about the role packaging plays in its commitment to sustainability and customer satisfaction.
Why Display Pallets and Packaging is Important at Club
To continue to provide its customers with products that meet their needs and exceed their expectations, Costco relies on Berkley to help meet several goals related to packaging:
Environmental Sustainability:
Costco has set a goal to reduce its greenhouse gas emissions by 25% by the year 2030. The company will reduce its environmental impact and achieve its sustainability goals by focusing on sustainable packaging practices, including the use of materials that are recyclable, reusable or compostable, reducing waste in the supply chain and optimizing packaging design for efficient transport.
Efficient Transport:
Efficient packaging design helps to maximize the use of space during transport, which reduces the number of trips required to move products. This helps to reduce transit costs and greenhouse gas emissions.
Product Protection:
High-quality packaging helps protect products from damage during shipping and handling, ensuring that customers' packages and products arrive in good condition. This lowers the risk of returns and reduces customer dissatisfaction.
Brand Image:
Branding is an important part of the customer's experience. Costco is known for high-quality products and low prices. Using packaging that is visually appealing, informative and consistent with the company's brand image helps Costco reinforce its reputation as a reliable and high-quality retailer.
Cost:
Known for its focus on high-quality products at low prices, Costco is committed to finding cost-effective solutions that don't compromise the quality and protection of the product.
Regulatory Requirements:
Packaging must comply with regulatory requirements, such as product labeling and safety, as well as environment rules, and our packaging and display products help Costco meet these specifications.
What Berkley Offers Its Warehouse Club Clients
Deep understanding of the company's packaging requirements, including those related to product protection, sustainability, cost-effectiveness, branding and regulatory compliance
Expertise and experience in developing packaging solutions and display-ready pallets
Focus on innovative design, cost-effective solutions and sustainable materials
Ability to help products stand out on the shelves and deliver value to customers
Choose the Reliable Pallet Display Provider
Berkley offers our current and potential Club clients the same benefits we have provided to Costco for years. Our partnership with one of the world's largest and most respected retailers attests to our ability to understand and meet the needs of our clients in the Club environment. We have helped Costco achieve its business goals through our packaging and pallet displays for retail, and we're ready to do the same for you!
Want an innovative solution?
We think outside the box!